---
---
SunSock™️ car shade protects your family from harsh sun rays in the most convenient way.
" By law, front windshields are treated to filter out most UVA, but side & rear windows aren't. Because infants' skin is so sensitive, it's better to shield them from the sun rather than use sunscreen. "
- Skincancer.org
 This is exactly why SUNSOCK™️ was made. It filters out 80% of the UV Rays and greatly reduces the damage on your kid's and pet's skin & eyes. It has also been tested for heat regulation, and brings down the cabin heat by 20-40%.
"High body temperature could be fatal to infants and children — and those who survive may sustain permanent neurological damage," said a paediatric Professor from the University of California.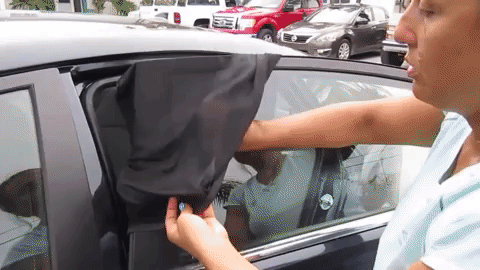 Does your stomach churn a little at the thought of applying those cheap, tacky, bubble-pocked stick-on window tints to your automobile? SunSock solves all your problems.
WHY SUNSOCK™️?
UV PROTECTION: Blocks 80% of UV rays
HEAT REDUCTION Rate of 20-40%
INCREASED AIRFLOW: Made of breathable, stretchy and super-light mesh fabric for easy air flow in & out of the cabin. 
ENHANCED SECURITY: By giving you a curtain, it enhances privacy and security for your back seat passengers.


ONE SIZE FITS MOST: 
 Measuring 52x94cm when stretched, it will fit most of the car door frames. (Please measure your car's rear window size before you purchase)
EASY INSTALLATION: 
Slip-on design makes it super easy to install. 
ROLL ON/ROLL OFF DESIGN
- Windows can be lowered or raised even with SunSock on, making it super convenient to use.
YOUR PACKAGE WILL INCLUDE:
1 SunSock Shade & 1 FREE! (Totalling 2 Shades)
* Note: Offer is valid until supplies last- Selling out fast!
CLICK ⬆"BUY NOW"⬆ BUTTON TO SECURE YOURS!
🌏 FREE WORLDWIDE DELIVERY ✈
We provide FREE Insured Worldwide Shipping so that you as a customer get 100% satisfaction. 
If you have any problems with your order, please contact us within three days of receiving the order. We have a 24/7 Ticket and Email Support to handle all your concerns. Don't hesitate to contact us if you need any assistance!